I've talked about French and European roulette being interchangeable with each other, but there is a difference between the two games. Legend says that roulette was invented in France, which is part of Europe, so many people assume it is the same game.
Both games use the same rules and both have a single zero, meaning the odds are better than the American version. The first difference is in the physical layouts of the table and wheel. In other versions, the wheel is usually on one side with a single table. In French roulette, the wheel is in between two tables. This fact makes it easier to spot in a casino. Also, the table is usually completely red and there are no black colors around the numbers, even though they are considered black. This is just part of the style and original version of the game.
As for the bets, everything is the same as the European version, except for a few additional types of bets that can work to your advantage. You may have come across the term "La Partage". This is a rule that is nearly identical to the "En Prison" rule where a player will lose only half the bet when the ball lands on zero. I wrote about En Prison in an earlier post and you can read the full details of it here.
The biggest difference between the two game variations is that the French version has "call bets". They are specific pre-made bets where players can bet on special groups of numbers ordered by their physical position on the wheel. I listed a few of the major call bets below with their original French names and translated into English:
Voisins du Zero – Neighbors of Zero: This bet covers 17 numbers surrounding the zero on the wheel as well as the zero itself.
Jeu Zero – Zero Game: This is similar to "Neighbors of Zeros" bet, but you are selecting only 7 numbers around zero and including zero.
Tiers du Cylindre – Third of the Wheel: This bet covers one third of the numbers on the wheel. Basically it's the 12 numbers that are opposite of the zero slot.
Orphelins – Orphans: This is a bet on all of the numbers that were not included in the "Third of the Wheel" and "Neighbor of Zero" bet, which includes 8 numbers.
Finales – Finals: These are final bets that use the final digits of each number as a way to coordinate the bet. For example, if the player announces "Finales 5", The numbers 5, 15, 25 and 35 would be wagered on. This would be allowed for any other number as well. Sometimes you are betting on 3 or 4 numbers at a time depending on which digit you select.
I hope this good Wikipedia image below will illustrate where these numbers are in respect to the positions on the wheel: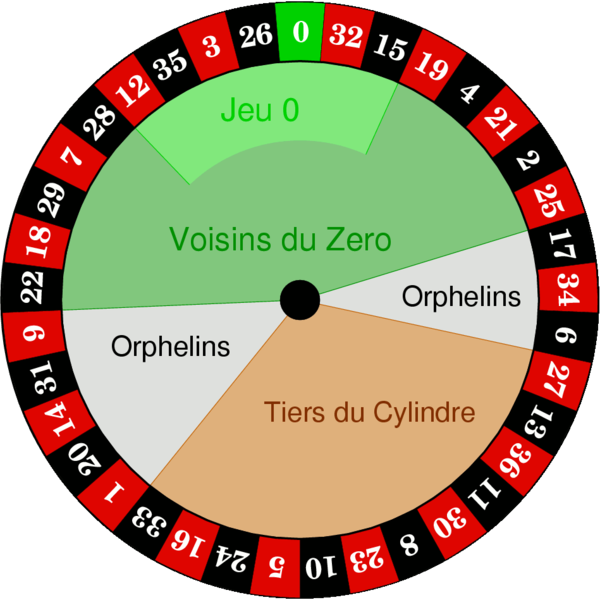 If you are interested in this game and want to practice and try out these bets, play our free flash French roulette game with no download required, or go to CasinoMax