There are two very similar types of roulette bets that most people don't know about but you hear them once in awhile at the roulette table. Actually, they aren't very special but they sound arcane and use words in the usual gambling "slang" language. As you may have guessed, they are just bets based on the red or black colors on the roulette wheel.
People look at the table and see alternating colors along with numbers. You can actually see a connecting series of red colors, known as the Red Snake. There is also a series of black numbers that are connected to make up the Black Snake (sort of). Basically when you announce or call out these snake bets, the croupier will usually know what you are talking about.
I found a great picture on Wikipedia to illustrate which numbers to select in order to make a "Red Snake". The numbers included in this bet are: 1, 5, 9, 12, 14, 16, 19, 23, 27, 30, 32 and 24. Note that this doesn't really improve your odds or anything, but it's just peculiar type of bet to try and mix up the table a little bit. This is more part of the socializing and entertainment going on at the table. Though some people tend to use this for better luck. It just depends on how you are feeling and if you think this bet will be good. Most importantly, this bet is very convenient to the croupier because they know exactly what the snake is. It is much better announcing this bet rather than naming off each number one by one!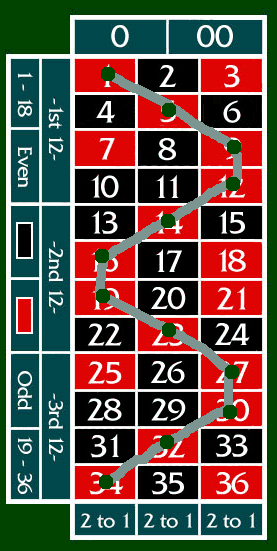 Note that the Black Snake really isn't official. Many people assume that since there is a red one, there must be an opposite black one. Notice that you cannot make a correct snake out of the black spots in the same shape as the red ones. For that, you would probably have to call out the numbers one by one, which could be annoying and tedious for the dealer. I would probably stay away from the black snake unless the dealer knows what to do here since there is no one way to do it like the red one.